WELCOME TO THE WEST COAST
WILDERNESS LIVING
Located a short drive from the world-famous villages of Tofino and Ucluelet, British Columbia, the Ittatsoo Bay development provides a variety of means to secure a large legacy property on the Pacific West Coast of Vancouver Island. Enjoy the rugged, natural beauty of the Pacific shoreline in all four seasons from golden, summer sunsets over the Pacific to wild winter storms.
Ittatsoo Bay lands occupy the north west tip of Barkley Sound, just outside of Ucluelet Harbour. They are the largest contiguous piece of private lands, initially 333 acres, on the north coast of Barkley Sound. The 150 acre Uplands, which sold out in 2014, consists of 14 ten acre lots at elevations between 150 and 310 feet, many offering stunning views of the Pacific Ocean and Barkley Sound. The 107 acre Midlands has been rezoned for subdivision into 16 five acre lots.
Although the electrical power grid is only 1.5 kilometres away, the founders and all existing Upland lot owners have preferred to remain "off grid" so as to enjoy the long term benefits of energy independence and self-sufficiency.
Enjoy your visit.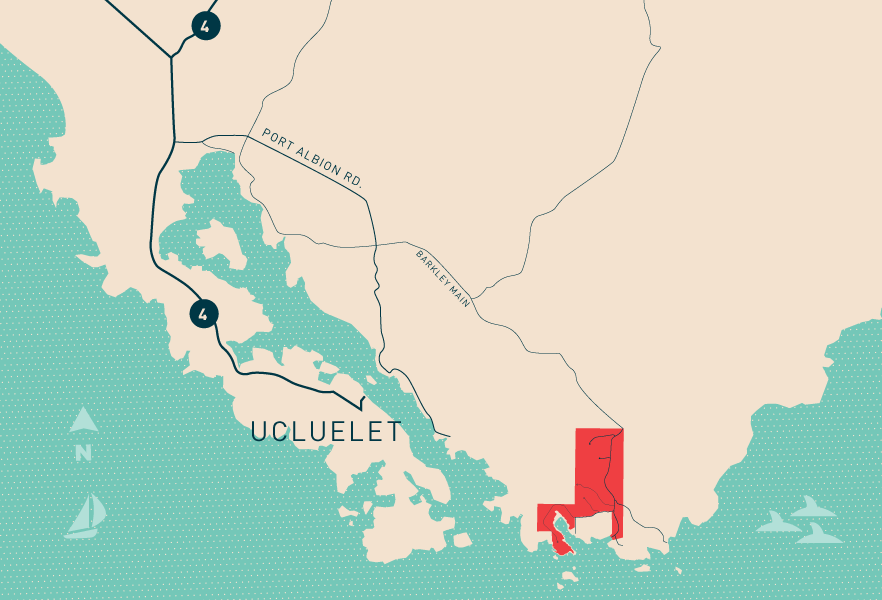 REFINED RURAL LIFESTYLE WITHOUT SACRIFICING CULTURE
Ittatsoo Bay is wonderfully remote but it is not removed from the rest of the world. The nearby towns of Tofino and Ucluelet boast world-class restaurants and culture, while Victoria, the capital of BC and one of the most beautiful cities in Canada, is just half a day away. Solid cell phone service can be found anywhere on the property.
CONNECTION TO NATURE
Immerse yourself within the power of nature. Gaze out and witness the sea and sky collide into storms. Quietly reflect on the change of seasons and the rhythms of the wilderness around you. Or dive into your next outdoor adventure and experience this land in motion with a sheen of sweat on your brow.
RAW POTENTIAL
Right now, each soon to be announced Midlands homesite represents pure, limitless potential. You can do anything with this land, from creating a cabin in the woods to commissioning an architect to design a home perfectly in tune with its surroundings. It is yours to mould to match your dreams.
A STRONG INVESTMENT
Soon to be announced Midlands lots will start at C$350,000 for five acres of developable coastal land. Homesites of this size and at this price are simply not otherwise available adjacent to all of the infrastructure and amenities of the area. These lots are in proximity to the Broken Group Islands, Long Beach, Tofino and Ucluelet, the Tofino Airport, and all of the tourist infrastructure of the West Coast.
SUSTAINABLE COMMUNITY
The Ittatsoo Bay community will endeavour to enhance its environment, not diminish it. Traffic will be minimal, homes will suit their surroundings, and you will be able to grow organic food on acres of healthy land and take fresh seafood right from the ocean.
PLACE FOR FAMILY AND FRIENDS
This is a place to share with loved ones. What you create here can be enjoyed immediately, but it can also be a gift to your family for generations. It can be a legacy to be proud of and an investment into the future.